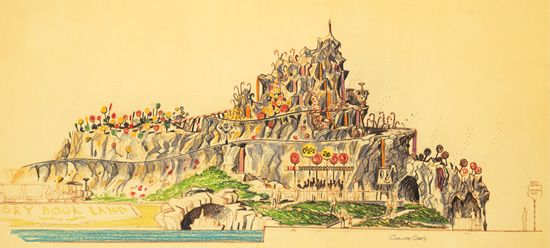 A
s you may already know, my grandfather, Claude Coats, was a Disney artist and imagineer for over 50 years. Indeed, he helped bring to life many classics, including,
Snow White and the Seven Dwarfs
,
Cinderella
,
Pinocchio
, and
Peter Pan
. He also helped build Disneyland into what it is today - designing fan favorites like
Pirates of the Caribbean
and
The Haunted Mansion.
But there are also the hidden designs; whimsy's of my grandpa's imagination that never became reality. I can remember being a child and seeing the drawings for a Candy Mountain that never came to be - but I always thought it would have been so fanciful!
Fast forward to yesterday evening. My mother-in-law, Susan, forwarded me an article from
Disney Parks Blog
, and lo and behold, they are using that design!!! I can't believe it!! There is a new candy store opening on June 15th in
California Adventure
called
Trolley Treats
- and in the front window will be a model of my grandpa's original
Rock Candy Mountain
! Isn't that just dandy?!
I can't wait for August to roll around so I can go see it in person!!
(Too many exclamation points in this post?!!! Perhaps....but this is an exclamation point kind of occasion!!)
And visit
ClaudeCoats.com
to learn more about my grandfather...and perhaps buy a print or two.
(Then you and I could have matching artwork hanging on our walls, wouldn't that be fun?)