Before going to Ethiopia in August I went around the house and took pictures of everything. And by everything I mean bathrooms, dogs, toys, bedrooms, etc. I also took pictures of our family at the water park, and of the girls doing activities like gymnastics and guitar. Then I printed them all off and put them in two pretty little albums.
On that first trip we were able to spend five days visiting Elsa. We also went to court where she legally became our own. But then we had to say goodbye for a short while we awaited her visa from the US. That's why I wanted the photo albums; something tangible for her to hold and look at; a reminder that we were coming back to bring her to our little corner of the world.
When we got to the orphanage there were albums everywhere; prized possessions of children who had already met their forever families and were awaiting their return. It was fun to see all the albums and to watch the children 'showoff' their families to each other. Here is a picture of Elsa [wearing Donald's hat] looking at one of her photo albums with all her friends looking on.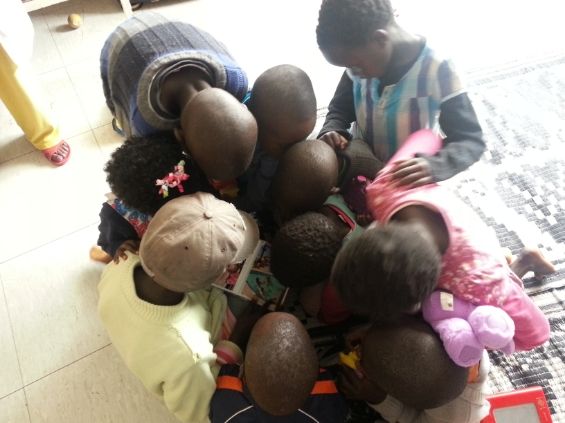 It was heartbreaking to say goodbye at the end of that week. Elsa was in tears as we left. She told the orphanage director (who then translated for us) that she 'wanted us to stay with her or take her with us'. She didn't want to wait. But, unfortunately there was no way around it. So we left, promising her that we would be back soon.
Three months later it was time to return. When we arrived at the orphanage the albums that were new and shiny just one season earlier were battered and falling apart. A sure sign that she had looked at them over and over and over again.
It wasn't until recently that I flipped through one of those albums again. You can imagine my surprise to see that there was a small picture of Elsa taped into the corner of our family picture:
My heart melted. First of all, Elsa looks so young in that portrait - which thrilled me since I don't have any baby pictures of her. Second, it was so sweet to see that she had put herself into the picture. At first I thought one of the nannies had done it for her, but she immediately corrected me when I asked about it, "No, I did it."
Naturally, my next question was where did she get that picture of herself. Her response surprised me. She told me that when her mother came to say goodbye to her (in July) she gave her three pictures. That was one of them. I asked Elsa about the other two but she doesn't know where they ended up, which is understandable in the organized chaos of an orphanage. My heart broke a little as I imagined her mother seeing her that last time. I honestly can't fathom what she must have been feeling or how she had the strength to walk away.
Elsa is a brave little girl. She is a strong little girl. To take a farewell gift from her biological mother and attach it to a picture of her new family shows her willingness to accept change. She talks openly with us about her past and has very fond memories of her early childhood. She doesn't mourn for the life she left behind, but rather appreciates it. Indeed, I think she has found a healthy way to balance two worlds - one that holds her roots, and another that holds her future.