A
nyone who knows me knows that my
favorite
movie in the whole world is
Mary Poppins
. It always has been and it always will be. I'm not sure why I hold it in such high esteem - perhaps simply because it is to me what no other movie is:
magic
.
I remember one time when I was a child, my father took me to a special screening of Mary Poppins in the company of Julie Andrews and Karen Dotrice (who played Jane). Dick Van Dyke was also supposed to be in attendance, but his flight was delayed if I recall. Regardless, it was a memory that I cherish. Thinking back I figure it was probably in honor of the 25th anniversary - and this upcoming year marks the 50th!
About a decade ago I decided to read the book Mary Poppins by P.L. Travers. Knowing that books are usually superior to their film adaptations, I was eager to read the inspiration for Disney's movie. It was, however, a great disappointment. The book left me puzzled; it lacked all the charm and whimsy of the film. What did Walt Disney see in it? Furthermore, how was he able to read it and see beyond to the magic he created? Pure genius, I suppose.
Because of that, I was excited to see the movie that came out this month, Saving Mr. Banks, about Walt Disney's quest to bring Mary Poppins to life on the big screen. Donald and I went to see it on Saturday night and I enjoyed it immensely! (Though I still don't know how Walt Disney could have loved the book enough to beg Mrs. Travers to sign over the movie rights for 20 long years!)
Tonight we decided it was time to introduce Elsa to
Mary Poppins
. I mean, she has been here a full six weeks! It was high time! I was giddy with excitement; eager to see her discover the
magic of Mary
. Much like when I took her to see
Nutcracker
, I found myself watching Elsa more than the movie. She was absolutely in awe! There was a look in her eyes of pure joy and amazement! And oh, how she laughed when the penguins danced with Burt!
I knew it already, but tonight confirmed it once more
- Elsa most definitely came to the right family!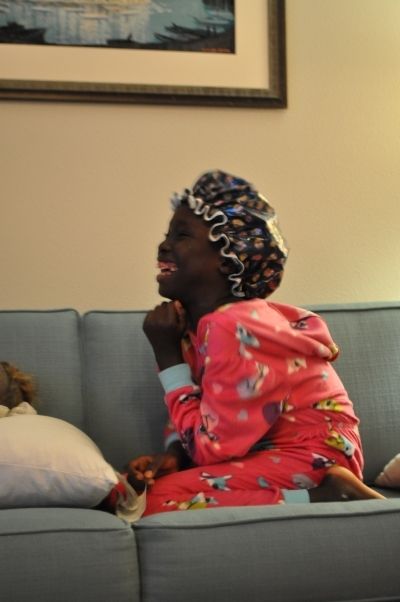 [A picture of Elsa watching Mary Poppins for the first time. At this exact moment she was laughing as the toys were going bonkers as Mary finished tidying up the nursery.]
[Don't mind the shower cap - Elsa gets a nightly conditioning treatment on her hair.]
Supercali-fragilistic-expialidocious!